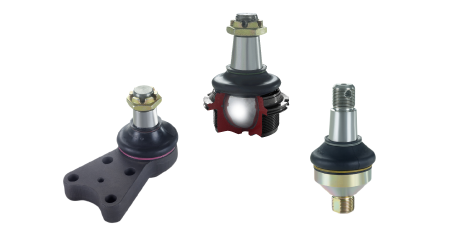 Suspension Ball Joints
Suspension Ball Joints (SBJ) are commonly applied between control arms and wheel carriers or knuckles of the suspension that allow relative articulation and rotation between the mating components. Depending on its application, the ball joint can transmit longitudinal and lateral forces with only a small proportion of axial/vertical forces (guiding type) as well as the complete vehicle weight in vertical direction (load carrying type). SBJs guide the wheel by allowing for its controlled motion resulting from steering movement and changes in the road conditions.
THK develop and produce a wide range of various high-quality SBJs in conjunction with customer requirements. All technical feasible joining methods are applied to connect the SBJ with adjacent structural parts.
THK's modular ball joint design principle includes the entire range of required sizes for a customer's portfolio of vehicles by applying state-of-the-art designs as well as advanced materials and coatings to ensure functionality and performance in terms of strength and durability, stiffness, low noise level, low friction and corrosion protection over the guaranteed lifetime. The design of the heavy-duty Load Carrying Ball Joint was particularly developed for commercial vehicles requiring convenience and high load capacity. Due to the specific plastic bearing design, low radial and axial movements as well as low turning torques are characteristics.