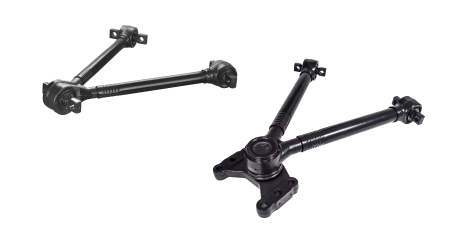 V- Links
V-Links (VLs) are providing the longitudinal and lateral guidance of the vehicle axles. VLs are fixed at the vehicle chassis and typically used in combination with Radius Rods.
THK produce different VL versions with adjustable or fixed connection of tube and housing. Several joining methods are applied to connect the SBJ with adjacent structural parts.
Two different central joint designs are available to meet load and customer requirements. VLs are typically equipped with rubber bushings for enhanced loading capacity or with sliding bearings for excellent low torque performance at high angular range.